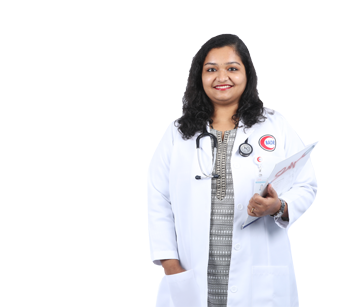 Dr PUNYA MOHAN
Medical Officer
General Practice
MBBS
9 years of experience
Dubai (UAE)
About Dr PUNYA MOHAN
Dr Punya Mohan is a General Physician with over 5 years of clinical experience in India and Dubai. Having trained in one of the premier medical colleges in Karnataka, India, she is fully- qualified in managing most types of general illnesses. She is effective in managing cases of acute infections as well as chronic lifestyle disease conditions. She also has a special interest in managing accident and emergency cases where she puts her skills in minor surgical procedures to good use. Dr Punya believes in updating her knowledge bank and attends workshops and conferences whenever possible.
Excellence & Experience
Area of excellence
Diagnosis and primary management of acute and chronic illnesses
Level of Experience
Medical Officer - Kripa Hospital, Wayanad, Kerala – 3 and a half years
General Practitioner - Badr Al Samaa Medical Center, Dubai – 2 years
Awards & Academics
Academics Details
MBBS - KVG Medical College, Karnataka - 2012
Out Patient Timings
The outpatient timings at Badr Al Samaa Hospitals have been planned in such a way that your choice of doctor is available whenever you are free.
Sunday
8:00 AM - 4:00 PM
Dubai - UAE
Monday
4:00 PM - 12:00 AM
Dubai - UAE
Tuesday
8:00 AM - 4:00 PM
Dubai - UAE
Wednesday
4:00 PM - 12:00 AM
Dubai - UAE
Thursday
8:00 AM - 4:00 PM
Dubai - UAE
Friday
Saturday
4:00 PM - 12:00 PM
Dubai - UAE