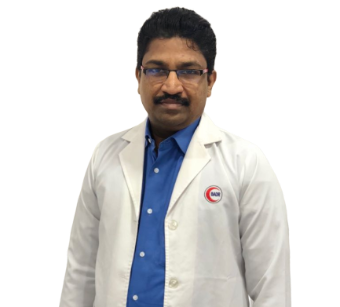 Dr Suresh Mani
Medical Officer
General Practice
MBBS
25 years of experience
Dubai (UAE)
About Dr Suresh Mani
Dr Suresh Mani is an excellent General Practitioner with over 21 years of experience of medical service, out of which 14 years have been in the GCC countries. He manages both adult and paediatric patients and is excellent in following up on patients with chronic diseases like diabetes, hypertension, asthma, etc. He is highly skilled in the management of the Emergency section where he attends to accident and trauma cases. He is also proficient in minor procedures like suturing, incision and drainage and venous cut- down. He skilfully handles medical emergencies like acute myocardial infarction, resuscitation, arrhythmias, poisoning and asthmatic attacks too.
Excellence & Experience
Area of excellence
CPR
Infectious diseases
Chronic diseases management
Medical emergencies like MI, asthma attacks, snake bite
Emergency and critical care management
Minor surgical procedures like venous cut down, incision & drainage
Level of Experience
Medical Officer in charge of ICU - SP Fort Hospital, Trivandrum, India – 2000
Medical Officer - Dept of Trauma and Emergency Medicine - SP Fort Hospital, Trivandrum – 2001-2005
Emergency room Resident – Abqaiq General Hospital and Safa Medical Centre, Dammam – 2005-2009
Medical Officer – Badr Al Samaa Medical Centre, Dubai – 2014 to Date
Awards & Academics
Academics Details
MBBS - Medical College Trivandrum, University of Kerala, India - 1998
Out Patient Timings
The outpatient timings at Badr Al Samaa Hospitals have been planned in such a way that your choice of doctor is available whenever you are free.
Sunday
4:00 PM - 12:00 PM
Dubai - UAE
Monday
4:00 PM - 12:00 PM
Dubai - UAE
Tuesday
4:00 PM - 12:00 PM
Dubai - UAE
Wednesday
4:00 PM - 12:00 PM
Dubai - UAE
Thursday
4:00 PM - 12:00 PM
Dubai - UAE
Friday
Saturday
4:00 PM - 12:00 PM
Dubai - UAE